Express Learning
Gain maximum experience in minimum time.
Our comprehensive line of BCC postal products help improve your mail workflow by optimizing postage costs, improving data processing efficiencies, and providing integrated access to our wide array of data marketing service offerings.
BCC Software is committed to keeping your operations and all of our BCC Postal Products current to the latest USPS regulatory rulings, like Intelligent Mail® Full Service.
All of our Postal Products are backed by our promise of "How can we help" with unlimited phone support, email support, and training that can be customized to fit your needs.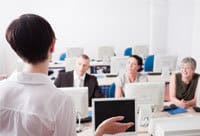 New to BCC Mail Manager and mailing in general? This introductory course is for you. You'll take your first steps toward navigating the path to postal presorting that leads to increased mailing speed and effectiveness, and reduced postage fees. Topics include:
Defining parameters to presort a mailing job
Mailing terminology and abbreviations commonly used in presorts
Labels and Reports from a presort
Demonstrating a presort using advanced features
Postal references
---
Learn how to use Mail Manager's Calculated Expressions to modify records. The most commonly used expressions are discussed and demonstrated. The following topics are discussed in this session:
Defining Calculated Expressions and what can they do
Creating expressions
Using the Expression Builder, Index Builder and Selectivity Builder
Creating Calculated Text
---
Learn how to remove duplicate records and use encoding return codes to reduce redundant or undeliverable as addressed mail. Also learn strategies for dealing with address records that are not valid. Featured topics include:
Finding duplicates or de-duping
Selecting valid encoded records for a mailing
Strategies for dealing with invalid records
---
Get to know the basics of using this powerful option to merge records from multiple lists and purge addresses from others resulting in one efficient file Featured topics include:
What is Enhanced Merge/Purge?
Features
Merge Schemes
Match Indexes and Match Codes
The Merge/Purge Wizard
Demonstration
---
Learn how to prepare a mailing with BCC Mail Manager, covered in this on demand session are:
Creating a layout
Importing a list
Encoding Addresses
Finding Duplicate Records
Presorting Records
Printing Postal Reports and Labels
Configure settings
Using Help
---
Learn how to use BCC's Mail.dat Wizard and navigate the USPS Business Customer Gateway. Topics include:
Overview of Intelligent Mail® Full Service
Discussion and demonstration of Bell and Howell BCC's Mail.dat Wizard including the PostalOne! Mail.dat Client to generate, validate, and transfer Mail.dat 09-1 jobs to the PostalOne! Test Environment for Mailers (TEM)
Test Scenarios required for PostalOne! certification
---
Designed for the person new to mailing, this session reviews mailing fundamentals of:
Standard and First-Class Mail Classes
Mail Processing Categories; Letter, Flat, Machinable Parcel and Irregular Parcel
Manual preparation of a presorts and postage statements
Basic Presort Levels, Auto Carrier Routes and Destination Discounts
Manual preparation of a presorts and postage statements
---
Get to know the BCC Mail Manager option that can bring powerful automation capabilities to any mailroom. You'll learn how to record, modify, and set recurring jobs to run with little or no operator attention, enabling greater efficiency and allowing you more time to handle more jobs.
---
This ELS is a general overview of BCC Software's Track N Trace feature. Topics include:
How individual mailpiece tracking can help your business
Understanding delivery trends – the key to more economical mailing
Essential Track N Trace functionality
Understanding Track N Trace delivery reports