Join your peers for this can't-miss event
Network with attendees and hear from industry experts, like BCC Software president Chris Lien, who was chosen to present three workshops at NPF this year:
Messaging to Millennials: Direct Mail's Role
Did you know that studies have shown the 90 percent of millennials find direct mail trustworthy? And that 92 percent are influenced by mail? Direct mail is a powerful medium for messaging to millennials, but savvy marketers are approaching it in new ways. In this workshop, you'll learn:
The importance of complete, correct, and current data
How to leverage that data for personalized, custom messaging
The important of a marketing mix and multichannel marketing with this demographic
Create a Vision for the Year 2020
As Bob Dylan sang, "you better start swimmin' or you'll sink like a stone. For the times they are a-changin'." The time to prepare for 2020 is now. Changes in workflow, processes, and strategies don't happen overnight – they take time, and all members of the print and mail industry need to take stock and make plans for what lies on the horizon
How to be a Modern Data Detective in an Informed World
2017 was a big year for data coming from the United States Postal Service. Between Informed Visibility and Informed Delivery and the Mailer's Scorecard, mailers have more data than ever to make decision with. But where to start? How does it work together? What's actionable and what's noise? In this workshop you'll learn how to be a modern data sleuth and find ways to save money and improve response rate.
The Could: What's In It For You? Exploring the World of Real Time Information Sharing in the Mailing Community
Don't miss this special panel discussion, featuring Chris Lien, Anita Pursley, and Jason Thomas, and moderated by Bob Reisner. This workshop is a conversation about the new opportunities that will be created as the USPS and Mailers collaborate using real-time information about trends in the marketplace. Learn to be proactive and anticipate your customer needs. Discussion topics will include API's, Data Hubs, Big Data, and Machine Learning.
Get your free portable charger.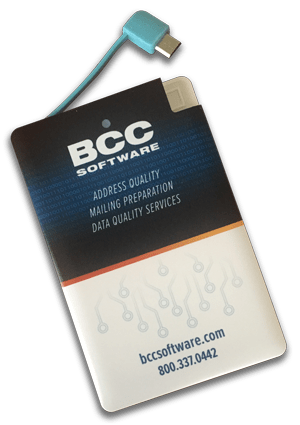 Sign up to reserve your free portable charger and complimentary exhibit hall passes! We'll see you at NPF!