Join your peers for this can't-miss event

Join your peers at the largest and most comprehensive industry event for graphic communications. The conference includes live demonstrations of the latest technologies across the exhibition floor, plus educational seminars on in-demand products and new opportunities to grow your business.
Come visit BCC Software in the South Hall at Booth 1416
Don't miss an exclusive presentation by BCC Software President, Chris Lien
How to be a Modern Data Detective in an Informed World
2017 was a big year for data coming from the United States Postal Service®. Between Informed Visibility® and Informed Delivery® and the Mailer's Scorecard, mailers have more data than ever to make decision with. But where to start? How does it work together? What's actionable and what's noise? In this workshop you'll learn how to be a modern data sleuth and find ways to save money and improve response rates.
Catch How to be a Modern Data Detective in an Informed World on Monday, October 1 at 12:00pm
Get your free portable charger.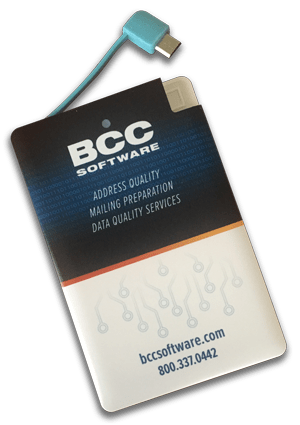 Reserve your free charger and complimentary hall passes!