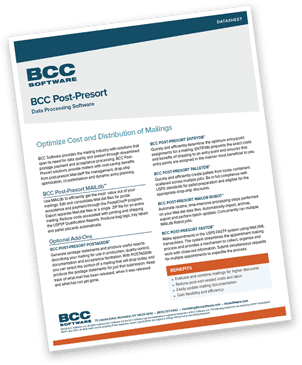 Are you getting the most value out of your mailings? BCC Software's Post-Presort solutions provide mailers with cost-saving benefits from post-presort Mail.dat® file management, drop-ship optimization, co-palletization and dynamic entry planning. With an additional array of optional add-ons, Post-Presort offers powerful solutions to ensure your company is getting the most out of every mailing.
Click the button below to download the Data Sheet and fill out the form for more information.
Key Benefits:
Evaluate and combine mailings for higher discounts.
Reduce post-sort related costs and labor.
Easily update mailing documentation.
Gain flexibility and efficiency.
Terms & Conditions:
Not valid on prior sales. Not valid with any other offers or discounts. Expires June 28, 2019.
Take advantage of the savings!
For more information fill out the form below.