Why are my NCOALink jobs going on hold due to PAF issues?
Is this a question you often ask? Even after selecting a PAF listed on the "Choose PAF" window, are jobs going on hold due to a pending ePAF or invalid PAF?
We have changed the "Choose PAF" utility to make it more user-friendly. With clearer headers to help navigate through the windows, descriptions to ensure the correct options are selected, and a message box displayed before sending ePAF e-mails, fewer PAF issues should exist.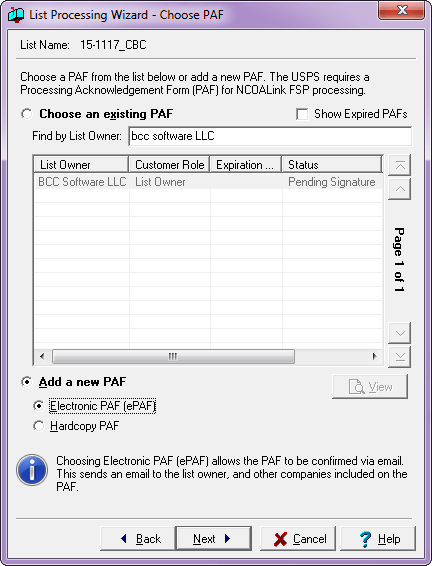 Choose an existing PAF
Page default allows you to search/select an existing PAF, through search tool and/or page controls. Note – PAFs with a status of 'Valid' will automatically process. 'Pending Signature' PAFs will not process until confirmed.
Add a new PAF
Select Electronic PAF (ePAF) to confirm PAF via e-mail, or Hardcopy PAF to fax/email paper PAF.