Brief Case Study: Reducing UAA with ARS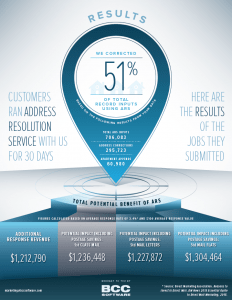 Over the past few months, we've brought you a series of articles, survey questions, and offers centered on a single topic: how to reduce your undeliverable as addressed (UAA) mail by using a service like Address Resolution Service (ARS). As a part of that effort, a number of BCC Software customers claimed an offer to use the ARS service at no cost for a month, to see the value of ARS for themselves. The results of those tests more than validated the effort. Over 700,000 records that couldn't be standardized by typical CASS processing were submitted for correction. Address Resolution Service was able to correct 51% of these addresses that would have otherwise been likely contributions to the 4% of all mail that winds up undeliverable as addressed.
If you'd like more information on the graphic above or to try this with your own data, please contact us today at marketing@bccsoftware.com or 800.337.0442.