New Video Series: Data Points with Chris Lien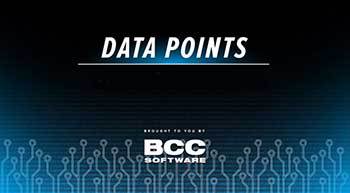 BCC Software is proud to bring you a new educational video series called "Data Points with Chris Lien". In these short videos, BCC Software President and well-known industry thought leader, Chris Lien brings you interesting industry-related facts and provides context to help you understand how these data points impact your business. You can see the very first installment below:
New videos are released on the first and third Wednesday of each month. The new videos released since the previous eBulletin will always be included in this format. If you want to be the first to see them without waiting for the next eBulletin, you have a few different options:
Follow us on social media (as a bonus, you'll get additional educational content on a daily basis):
Follow our YouTube page directly:
Check the Data Points with Chris Lien page:
The insights shared in these videos are excellent resources provided by BCC Software as part of our ongoing industry leadership and advocacy efforts. If you have feedback about this video or topics you'd like to see covered, please let us know at marketing@bccsoftware.com.