Professional Services BOGO Offer to Continue!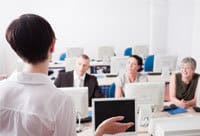 Due to the positive response to our Spring BOGO Classroom Seats offer, we have elected to extend the offer through September 30, 2014.  Training two students for the price of one has provided benefits to many of our users this year and we will continue through the summer to enable many more.
BOGO Classroom Seats – Buy one seat get one seat free in any LogIn Live remote classroom session. (Offer is limited to up to two free seats per class)
Not sure if Professional Services is right for you? Simply give us a call toll-free, (866) 326-7081 let us know, how can we help?