BCC Software President Receives Prestigious Industry Award from Idealliance
Chris Lien Honored as Annual Recipient of Donald A. Mumma Award in Washington DC
ROCHESTER, NY – JANUARY 18, 2016: BCC Software™, a leader in postal preparation and data marketing services, is proud to announce that President Chris Lien has been awarded the prestigious Donald A. Mumma award from Idealliance®. The award was presented at the January 2016 Postmaster General's Mailers Technical Advisory Committee (MTAC) meeting held in Washington, DC. Mr. Lien was recognized for his industry contributions through MTAC and its member associations during his over twenty years of industry participation.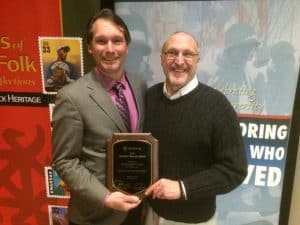 Awarded to just one recipient each year, the Mumma is one of the most prestigious awards given in the mailing industry. On their website, Idealliance details the story behind this honor – "The Donald A. Mumma Award is the highest award of distinction that Idealliance presents in the mail preparation and processing arena. The Mumma Award is a reminder that communication and collaboration between the US Postal Service and the industry are the key ingredients for our success. The award is named for Donald A. Mumma, a US Postal Service mailing requirements manager at headquarters who exemplified a US Postal Service manager in the early 1980's committed to customer focus and industry dialogue. He saw the advantage for both mailers and the US Postal Service to work together and was instrumental in launching the collaborative and worksharing approach between Idealliance and the US Postal Service. Throughout his many years of service with the US Postal Service, his legacy continued with those whom he mentored, fostering a continued spirit of industry collaboration and partnership. Donald Mumma died in 1983 and the Mumma Award was created in 1985."
Mr. Lien was pleased to receive this prestigious award, "This is a tremendous honor and I am deeply appreciative for the recognition. The mailing industry is a vital part of our nation's economy and the impressive technological advances we've seen in tying high-touch to high-tech communications this past decade is the direct result of collaborative dialogue between the mailing industry and our postal partners. I am sincerely humbled to have my name added to such a very impressive list of industry leaders."
In addition to his role as President of BCC Software, Chris Lien has an impressive track record in the mailing industry spanning more than two decades. During that time, he authored several software solutions utilizing Mail.dat® for electronic auditing, distribution and logistics planning, palletization, and electronic postage payment. He has been heavily involved in industry associations, including Idealliance. Mr. Lien also serves as the elected Immediate Past Industry Chair for the Postmaster General's Mailers Technical Advisory Committee.
David Steinhardt, President & CEO, Idealliance, shared his thoughts after the award presentation, "Presenting the 2016 Mumma Award to Chris during the January MTAC Meeting was most appropriate. He was recognized by more than 140 of his peers across the mail supply chain for his service to the industry. For Idealliance, he has been an entrepreneurial leader serving as an Officer of the Board this past year and, in 2009, organizing a new industry forum for mail software developers to cooperatively work with the US Postal Service. He is a "partner" in the best sense of the word advancing our industry!"
BCC Mail Manager, BCC Software's flagship product, continues to enable mailers of all sizes to take advantage of the numerous advances in technology developed by the USPS alongside their industry partners. Important standards like the Full Service Intelligent Mail barcode and Mail.dat have helped increase efficiencies and control costs for the USPS, mailers, and vendors. BCC Software continues to be at the forefront as an industry advocate and early adopter of these important advances in technology.
About BCC Software, LLC: Based in Rochester, NY, BCC Software creates innovative postal software solutions and provides extensive data marketing services. The company was founded in 1978 and employs approximately 80 people. More information on BCC can be found at bccsoftware.com or by calling 800.624.5234.
###
© 2016 BCC Software, LLC. All rights reserved. BCC Software, the BCC Software logo, and BCC Mail Manager are trademarks or registered trademarks of BCC Software, LLC. The following trademarks are owned by the United States Postal Service: United States Postal Service, USPS, and Full Service Intelligent Mail barcode. Idealliance and Mail.dat are registered trademarks of the International Digital Enterprise Alliance (Idealliance).