BCC Software is always on the lookout for motivated talent to add to our team. As the leader in the continuously changing postal and data quality industry, we're seeking creative and flexible people that are ready to help shape the future. We offer competitive salaries, benefits, and opportunities for growth and advancement.
BCC Software is an established, Rochester, NY-based company with a track record of success. We power thousands of company's outreach efforts with our innovative solutions that improve nearly 40 billion of the direct communications pieces sent in the U.S. each year.
We're looking for passionate people to join our team and contribute to building our vision for the future of the industry. If you're a talented professional looking for the freedom to solve the challenges of tomorrow while enjoying the security that a successful, 40-year-old company can provide, we would love to invite you over to our office for a chat.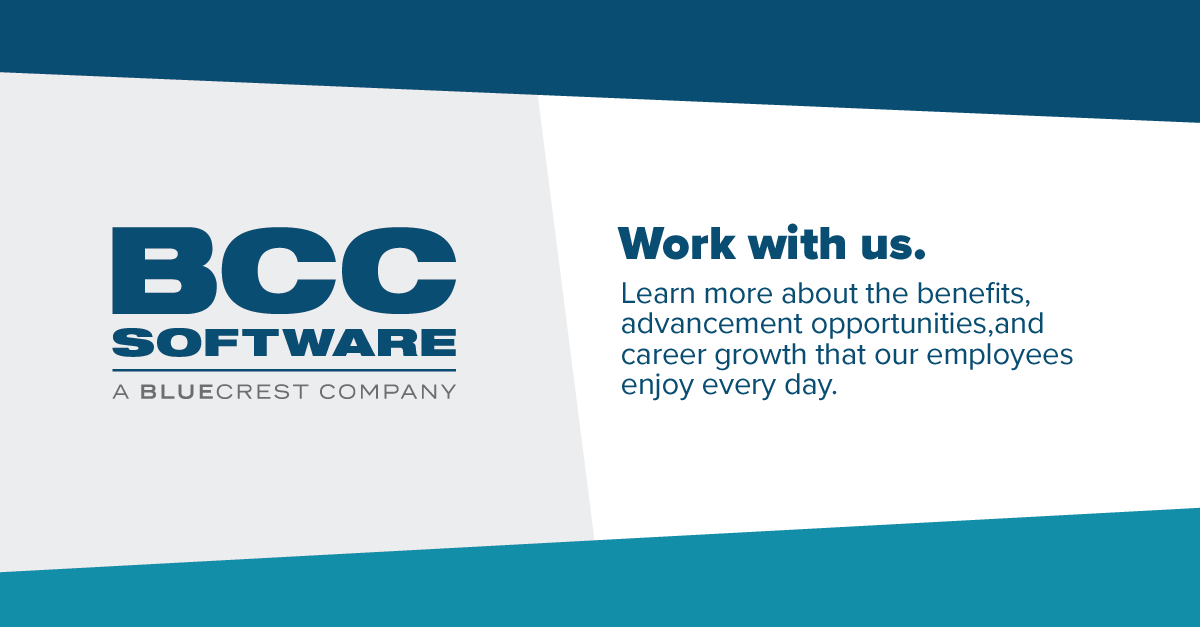 Benefits
In addition to a dynamic work environment, growth opportunities, and great culture, we offer outstanding benefits. Direct hires have immediate benefits eligibility.
Our benefits package includes:
Three company sponsored Health Plans to choose from
Dental and Vision benefits
Flexible Spending Account (FSA)
Health Savings Account (HSA) for those that choose a High Deductible Health Plan
Company paid Life and Accident Insurance, with the option to add additional coverage
Company paid Enhanced Short-Term Disability and Long-Term Disability
401k with discretionary company match
Paid Time Off, plus Company Paid Holidays
Employee Assistance Program (EAP)
Other perks include:
Employee Engagement initiatives such as company lunches, team-building events, and in-person collaboration opportunities.
Opportunities to give back to the community through volunteering and other activities.
Hybrid-work model for local employees and fully remote model for non-local employees.
Flexibility, work-life balance, and fun
Collaborative culture that embraces new ideas
Casual work environment
Professional development opportunities through our formal mentorship program
Career paths with room for advancement
Free snacks in our Rochester office
Current Openings
Sr. Software Engineer
Job Objective Apply now BCC Software is looking for a talented Sr. Software Engineer capable of consistently solving technical challenges working in an Agile team environment. The candidate should be equally capable and willing to work on existing well-established as well as new desktop and SaaS applications offerings. Our products must stay compliant with… Read: Sr. Software Engineer »
Learn More About Sr. Software Engineer
Cloud Systems Administrator
Job Objective Apply now The Cloud Systems Administrator is responsible for all IT aspects of BCC Software's Cloud and SaaS infrastructure and accompanied resources.  The Cloud Administrator will act as the product owner for all cloud solutions and will is responsible for all cloud related tasks such as planning, design, management, support and maintenance. … Read: Cloud Systems Administrator »
Learn More About Cloud Systems Administrator
Technical Support Specialist I
The Technical Support Specialist I is responsible for daily support functions, including accurately troubleshooting software and hardware issues and providing consulting to customers based on industry standards.
Learn More About Technical Support Specialist I