Green and Secure: Does It Meet the New Move Update Requirements?
When the Postal Service™ first announced its new Green and Secure program, it was described as a new alternative method to meet the Move Update standard. However, this inadvertently caused confusion, as the Green and Secure program is a subset of ACS™ and does not alleviate a mailer from meeting the Move Update requirements. As with other Move Update methods, the Postal Service's expectation is that Green and Secure participants will update their mailing addresses within 95 days of mailing. The USPS® has proposed this program, but please note the final rule has not been published.
So, what is Green and Secure?
First-Class™ Mail and USPS® Marketing Mail pieces that have an ACS™ Change Service Requested Service Type ID (STID) in the Intelligent Mail barcode (IMb) and are identified as Undeliverable as Addressed (UAA) would be discarded rather than returned to sender. The program is intended to reduce the cost of processing UAA mail. Mailers would utilize an ACS Change Service Requested STID on First-Class Mail or USPS Marketing Mail, or a Secure Destruction STID on First-Class Mail.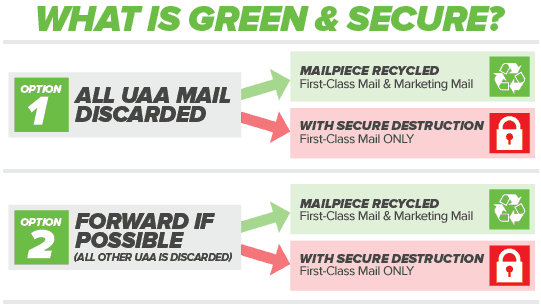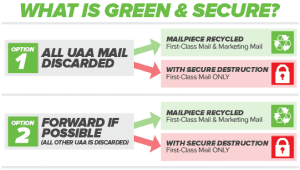 Mailpieces bearing the above STIDS will be discarded or securely destroyed and will not be subject to Move Update assessment charges. In response to concerns expressed by members of the Mailers Technical Advisory Committee (MTAC), the Postal Service agreed to change the Move Update calculation. Green and Secure COA errors are now removed from the numerator so that fears of affecting the current .5% threshold are alleviated. Electronic notification and information will be provided via the Mailer Scorecard.
There's a minimum requirement to comply, and then there's best practices
A mailer could take advantage of the program and simply use the proper STIDS that direct the Postal Service to destroy undeliverable mail pieces without updating their addresses. Scott free – no assessments! Who would know, right? The reality is that the Postal Service knows every notice that's been sent to a mailer. At what point does it become egregious and raise a red flag? It's a bit like playing Russian roulette.
So, how can you ensure your company is compliant with this new Green and Secure program? The best offense is a good defense: work on ways to reduce the amount of UAA mail you are generating. By generating higher quality addresses, you have fewer pieces to worry about for the Green and Secure program and you're bolstering your Mailer Scorecard. Address hygiene is of the utmost importance to help reduce UAA mail, which is the first place to start. All mailers already know that the first step is to run your list(s) through CASS™ processing. Some software and service providers, including BCC Software, offer additional address correction services that leverage consumer data unavailable to the USPS to further improve CASS results.
You have similar options when it comes to updating addresses for individuals, families, and businesses that move. NCOALink® is still the next best step, and one that satisfies the Move Update requirement. However, you have options to go a step further. For example, BCC Software offers Proprietary Change of Address (PCOA) processing, which finds moves that were never filed as a permanent Change of Address with the USPS. While PCOA does not help you qualify for Move Update compliance through the USPS, it's still a great tool to find addresses on your list that NCOALink may not be able to. But best practices extend beyond mail preparation. Post mailing, it's essential to run ACS to learn which of your mailpieces may not have been delivered, and for what reason. ACS is free through the USPS when used with a Full Service mailing.
BCC Software will be watching closely for the final announcement from the USPS concerning this program.