DDU Selections – Big changes available soon!
DDU Selection in Mail Manager has traditionally been driven by the 5-Digit ZIP Code of the facility receiving the mail. Changes in the way the USPS delivers mail and manages facilities have made this method less desirable over time. In an upcoming release of Mail Manager, you will see significant improvement to the interface and functionality for selecting DDU destinations. Selections are still driven by ZIP Code information, but the user interface will present a list of actual, physical shipping destinations. The software automatically selects all ZIP Code and CR ranges associated with that facility, significantly simplifying the selection process and improving the integrity of the pieces included with the drop shipment.
Here is a look at the new window.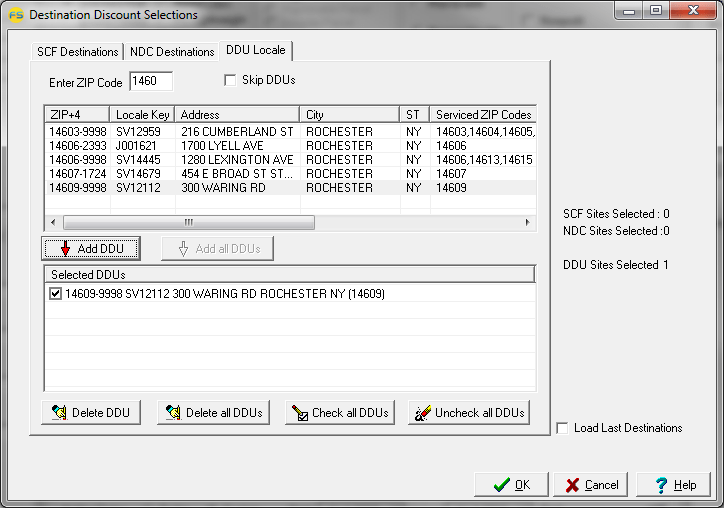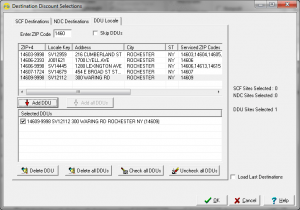 You can enter in as few as the first three digits of the ZIP Code, and be presented with a list of all the DDUs in that ZIP Code range. You can then select the destination facility, and Mail Manager will take care of the rest!
New Presort Type available
Mail Manager has always supported preparation for flat-sized pieces of First-Class Mail® in tubs, using the "Package" rules. We chose this path in the past because it provided the lowest possible postage cost by creating the finest possible sortation. We have heard feedback from mailers that in some cases, the time and work of packaging the bundles outweighed the postage savings. As a result, we have introduced the new "Tray Based" selection for First-Class Flats. This should allow larger trays to be made, without packaging. This should both speed mail preparation and help First-Class mailers comply with demanding customer SLAs.