The Great Resignation in the Mailing Industry and How Employers Can Mitigate Its Effect
Between July 2021 to December 2021, over 19 million Americans quit their job for various reasons. As of December 2021 job openings stood at 10.9 million.
This high level of unprecedented quits was termed the Great Resignation by American academic Anthony Klotz. The great resignation is a result of the Covid-19 pandemic, and even after the pandemic has subsided, its effect is still ongoing.
What is the Great Resignation?
The great resignation is a global trend where people quit their jobs for various reasons. This could be in search of a better work-life balance, better career opportunities, remote work, or maybe they aren't happy with their salary or have health concerns that have made working impossible.
Whatever the reason for the quits, the great resignation has affected many industries in the U.S, including our very own — mailing industry.
This has made employers more than ever before pickier about the employment opportunities they accept, making it worse for employers to attract and retain talent.
Inability to attract and retain employees will have a negative impact on business productivity, and revenue.
However, some industries have been able to rebound and found better ways to mitigate the great resignation effects one of which is offering better work situations like remote work.
While it's possible for some industries to do that, it can be difficult for mailing businesses in terms of mail preparation. Mail preparation, induction, and distribution to the end recipients cannot be done from home.
However, some positions in your organization can be automated to mitigate the great resignation effects. While this is not the only way to mitigate these effects, it's a big deal for mailing companies to get their workflow streamlined, save hours and money, and invest these in repurposing talent.
How Mailers Can Mitigate the Effects of The Great Resignation
While the great resignation is out of your control, you can mitigate its effects by putting some strategies in place to create a better work environment for your employees.
Here are some of my recommendations that can help with managing the effects of the great resignation.
#1 Identify the root cause of why your employees are quitting
Before jumping into quick fixes such as increasing pay or other financial incentives, it's best to understand the real reason why employees are quitting. If employees are leaving your company for greener pastures elsewhere, it shows that there could be a problem.
Listen to what employees are complaining about, and see how you can work on those areas in your business. Create a culture that acknowledges an employee beyond recognition of his or her talents. People want to feel valued and have a sense of purpose in the work that they do.
#2 Automate your workflow
While some aspects of the mailing process cannot be automated, some positions can be automated. Technology has made it possible to aid employees by automating "routine and boring" work that has to be done manually and on a daily basis.
Automating such workflows means time is saved, which can be repurposed in other areas of your business.
One of our Clients, Heeter Printing proactively automated some parts of their workflow and was able to save 8 hours per day on Manual job processing times. This led to an operational cost savings of $55,680, which can be invested in other areas of their business.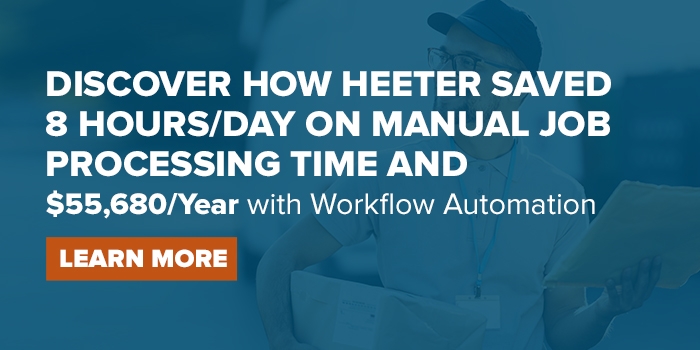 #3 Adopt a hybrid work environment
More employees are moving towards working from home. They like the work-life balance remote work offers. I understand this will not be implementable for every position in your business, but should identify those positions that can have a hybrid work situation.
This allows employees to work wherever they are, and keep the balance they desire.
#4 Make Bonuses and Salary Competitive
As much as we want to veer away from this truth, good financial compensation can lead to better work morale for employees. If your employees are leaving for greener opportunities, then it's time to take a look at your financial compensation structure.
Giving your employees competitive salaries, as well as other bonuses and incentives might make them less likely to quit.
In addition, you can develop better employee retention strategies such as giving extended leaves, investing in employee development, and restructuring salaries from time to time.
#5 Acknowledge Burnout
Employee burnout is one major reason for great resignation. The pandemic led to people losing their loved ones, others quitting their jobs, and the rest employees carrying the now increased burden of the workflow.
Stress and burnout can easily creep in, and lead to low morale. As a 21st-century employer, you should create a work environment that reduces stress and burnout.
This could be automating workflows as I said earlier, creating a hybrid work environment, and employing enough employees to reduce workload.
A Partner You Can Trust
At BCC Software, we're committed to helping printers to meet their deliverability goals. With over four decades of industry experience, our team of industry experts is active and involved in advocating for our customers' needs.
Backed by unlimited access to our legendary team of USPS® Mailpiece Design Certified professionals, BCC Software is the smart choice in postal software.
To learn more about how we can help you mitigate great resignation effects by automating your workflow, reach out to us by submitting the contact us form below or by calling 800-624-5234.