Update: You Can Now Utilize NCOALink Only with COMPLIANCE+™
BCC Software is pleased to announce that as of today customers with a COMPLIANCE+™ subscription are able to run NCOALink® processing only. To do so, however, you will need to have installed both the full release of BCC Mail Manager™ for October 2018, as well as the web update from October 25.
Why wait? Upgrade to COMPLIANCE+™ today!
To run NCOALink processing on your list, you will still select COMPLIANCE+, but you will now be able to select a use "NCOALink only" option. Please also note that when selecting NCOALink processing, you will receive reports that only reflect changes made as a result of the NCOA database and not the full COMPLIANCE+ report.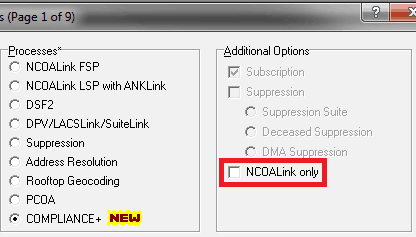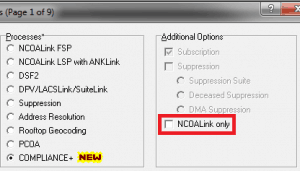 If you have questions regarding this change, or how to process your data as a result of the update, please do not hesitate to reach out to Customer Support at (800) 624-5234.