BCC Software Releases Integrated Mail Presorting Software Tag Printer with Increased Output Capacity
Updated TrayMate 4 Includes Ethernet Capability and Twice as Much Speed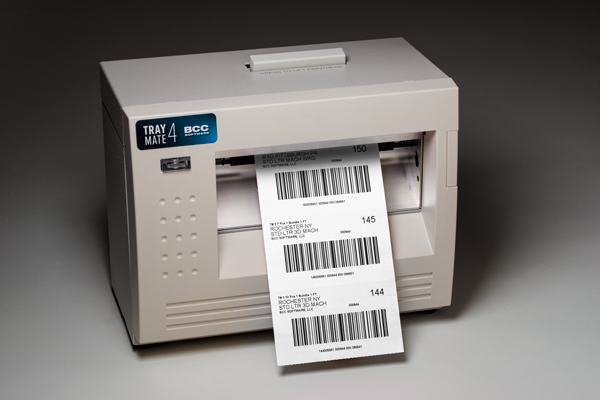 Rochester, NY – February 2, 2016: Today BCC Software™, a leader in postal preparation and address quality solutions, released the TrayMate 4™ thermal tag stock printer. Based on the popular TrayMate 3™, this new version boasts increased speeds and adds an Ethernet port to the available connections. It remains fully integrated with BCC Mail Manager™, making it the only tray and sack label printer to support tag generation during the presort process without manual intervention.
"We developed the TrayMate 4 to meet the demands of our thousands of BCC Mail Manager customers," commented Mitch Carpenter, Senior Product Manager at BCC Software. "Our users rely on the integration of this printer with the rest of their United States Postal Service® mailing preparation workflow to keep their operation running efficiently. Tags that come out without a separate step, in the right order, with correct information provide both peace of mind and substantial time savings on every job."
The TrayMate 4, exclusive from BCC Software, is up to twice as fast as its predecessor; boasting speeds of 265 tags per minute. As a thermal printer, there is no need to replace ribbons or ink cartridges that are costly and slow down production. Existing features like an auto-aligning tag feeder and easy print head access remain, while increased speed and a standard Ethernet connection have been added to address the demands of today's mail preparations needs.
Producing mailings that arrive on time and budget require high quality, integrated solutions like the TrayMate 4. BCC Software offers the TrayMate 4 as the only printer that communicates directly with a USPS® CASS™, MAC, and PAVE™ certified solution. This assures correct tags are automatically printed for prepared mail sacks and trays across any class of mail supported by BCC Mail Manager, including First-Class™, Periodical, and Standard Mail®. This fits in with BCC Software's end-to-end preparation offerings, which also include fully integrated data marketing services, advanced preparation capabilities, and Intelligent Mail® barcode mailpiece tracking.
For a limited time, new customers purchasing a TrayMate 4 are eligible for a discount on their initial license of BCC Mail Manager. Details on this offer are available by emailing marketing@bccsoftware.com or calling 800.377.0442.
About BCC Software, LLC: Based in Rochester, NY, BCC Software creates innovative postal software solutions and provides extensive data marketing services. The company was founded in 1978 and employs approximately 80 people. More information on BCC Software can be found at www.bccsoftware.com or by calling 800.624.5234.
BCC Software Media Contact: Shawn Ryan, Director of Marketing Communications, shawnr@bccsoftware.com, 585.341.3357
###
© 2016 BCC Software, LLC. All rights reserved. BCC Software, the BCC Software logo, BCC Mail Manager, TrayMate 3, and TrayMate 4 are trademarks or registered trademarks of BCC Software, LLC. The following trademarks are owned by the United States Postal Service: United States Postal Service, USPS, CASS, PAVE, and Intelligent Mail.