Take Deduping to the Next Level with Enhanced Merge/Purge
Warmer temperatures, green leaves, and of course, deep cleaning are all welcome signs of Spring! But for marketers and mail service providers, every day requires deep cleaning of mailing lists in order to save valuable print and postage costs.
The first step to cleaning any list is to eliminate duplicate records, also known as deduping. BCC Mail Manager™ customers can easily complete this task for all of their lists with the Enhanced Merge/Purge option available in the software.
Enhanced Merge/Purge takes deduping a step further by offering the ability to fully maximize list data and allows you to:
Merge lists together to get a "Best Record"
Suppress lists against each other
Intersect to find duplicates across lists
Household records
Use user-defined schemes to dedupe based on what is important to you
By allowing each user to define the selection criteria, the best record between two given, near-identical records is identified and selected. In addition, Enhanced Merge/Purge gives you the flexibility to select the sensitivity of the criteria to produce the optimal output list. As a safety net, an alert is built right in the system to make you aware of any critical errors.
Here are a few examples of record comparisons: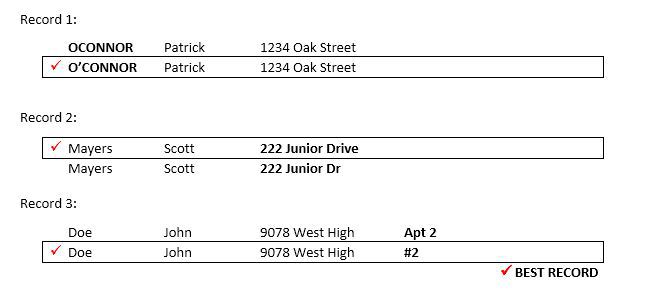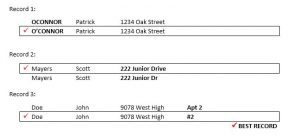 As you can see, Enhanced Merge/Purge is so much more than a standard deduper and offers you the flexibility to create better lists for you and your customers. To schedule a demonstration of this powerful option, contact our Sales department at 800.337.0442 or visit our website at to learn more about Enhanced Merge/Purge and other options available for BCC Mail Manager.