USPS Industry Alert: 2019 Mailing Promotions
The USPS® announced promotions for 2019 and released the following Industry Alert on October 22, 2018:
The Postal Service Governors have decided to move forward with the 2019 Mailing Promotions which are listed below and were filed with the Postal Regulatory Commission (PRC) on October 10th, 2018.  Implementation of the promotions is contingent on approval by the PRC.
The Promotions are designed to encourage mailers to try new things and continue utilizing mail as part of their multi-channel marketing mix.  They are designed to help marketers engage their customers by using dynamic color print, mobile technology as well as traditional mail techniques and new technologies.  The 2019 promotions provide multiple opportunities to participate.  Draft requirements and other pertinent information are available on PostalPro at https://postalpro.usps.com/promotions.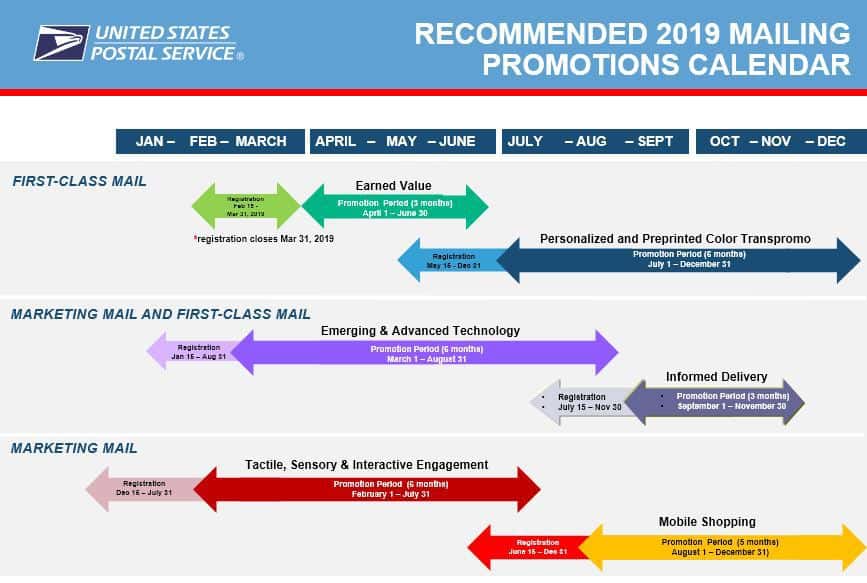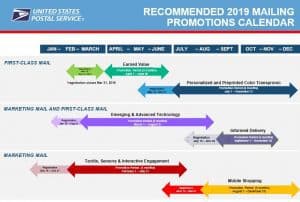 Tactile, Sensory and Interactive Mailpiece Engagement Promotion
Registration Period: December 15, 2018 – July 31, 2019
Promotion Period:  February 1, 2019 – July 31, 2019
Eligible: USPS Marketing Mail® letters and flats
Emerging and Advanced Technology Promotion
Registration Period: January 15, 2019 – August 31, 2019
Promotion Period:  March 1, 2019 – August 31, 2019
Eligible: First-Class Mail® & USPS Marketing Mail®
Earned Value Reply Mail Promotion
Registration Period: February 15, 2019 – March 31, 2019
Promotion Period:  April 1, 2019 – June 30, 2019
Eligible: BRM, CRM, and Share Mail
Personalized Color Transpromo Promotion
Registration Period: May 15, 2019 – December 31, 2019
Promotion Period:  July 1, 2019 – December 31, 2019
Eligible: First-Class Mail® (excludes all FCM single-piece-price mail)
Mobile Shopping Promotion
Registration Period: June 15, 2019 – December 31, 2019
Promotion Period:  August 1, 2019 – December 31, 2019
Eligible: USPS Marketing Mail® letters and flats
Informed Delivery Promotion
Registration Period: July 15, 2019 – November 30, 2019
Promotion Period:  September 1, 2019 – November 30, 2019
Eligible: First-Class Mail® & USPS Marketing Mail® letters and flats