Creating Your Every Door Direct Mail® (EDDM®) Lists Just Got Easier
In keeping with our promise to bring you expanded technology and personal support, we have improved the Every Door Direct Mail (EDDM) functionality in BCC Mail Manager™. The EDDM functionality that was popular in other products has been further enhanced and added to both BCC Mail Manager and BCC Mail Manager Full Service™. It is also available in Mail Manager LE™ with the ECR option.
Previously, BCC Mail Manager users had to create EDDM lists separately before importing them into BCC Mail Manager. Now, thanks to these enhancements, users can create and presort EDDM lists in BCC Mail Manager without having to purchase lists or use other software, saving you valuable time and money.
Key Benefits:
Simplify the creation and processing of your EDDM
Target all recipients in a designated area at a low postage cost
Review route quantities to determine the best areas to target
Easy presort setup to make sure you perform the correct mailing type
Provides access to special Facing Slips and USPS forms
Automate EDDM mailing creation and presorts in the optional TaskMaster™ add-on – Coming soon
In order to use this enhancement, you must first update your software to version 03.11.38.82, which is available now in the Software Updates section of the Customer Portal.
To use the new EDDM option and controls to easily create and presort EDDM, simply choose File > New List > EDDM.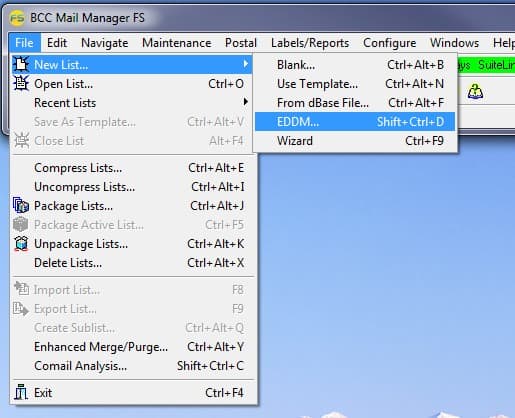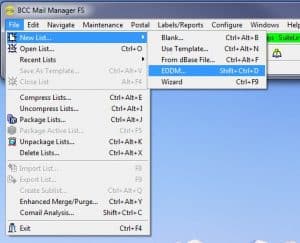 Want to know more about BCC Mail Manager? Click here.
For assistance updating your BCC Mail Manager software, contact BCC Software's support team at (800) 624-5234.
Interested in enhancing your organization's EDDM capabilities? For more information about BCC Mail Manager, reach out to sales@bccsoftware.com, or call (800) 337-0442.