Produce Tray and Sack Labels Directly From BCC Mail Manager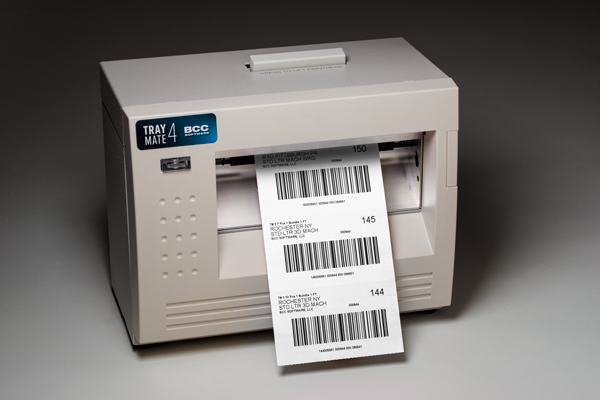 Last week we shipped the first units of the TrayMate 4™ thermal tag stock printer. Based on the popular TrayMate 3™, this new version boasts increased speeds and adds a standard Ethernet port to the available connections. It remains fully integrated with the BCC Mail Manager™ bulk mail software, making it the only tray and sack label printer to support tag generation during the presort process without manual intervention.
"We developed the TrayMate 4 to meet the demands of our thousands of BCC Mail Manager customers," commented Mitch Carpenter, Senior Product Manager at BCC Software. "Our users rely on the integration of this printer with the rest of their United States Postal Service® mailing preparation workflow to keep their operation running efficiently. Tags that come out without a separate step, in the right order, with correct information provide both peace of mind and substantial time savings on every job."
The TrayMate 4, exclusive from BCC Software, is up to twice as fast as its predecessor; boasting speeds of 265 tags per minute. As a thermal printer, there is no need to replace ribbons or ink cartridges that are costly and slow down production. Existing features like an auto-aligning tag feeder and easy print head access remain, while increased speed and a standard Ethernet connection have been added to address the demands of today's mail preparations needs.
Learn more about the TrayMate 4. If you would like additional information, please contact us at marketing@bccsoftware.com.