Comparing Mail.dat versus Mail.xml
Last month, we explored the benefits of becoming a Full Service Mailer with the USPS.  One of the main benefits is the cost savings associated with the Full Service postal discount. To receive this discount as a Full-Service Mailer, you must electronically upload all mailing documentation to the USPS through an eSubmission method like Mail.dat or Mail.xml. Both of these methods meet USPS electronic documentation (eDoc) requirements.
The chart below is a handy reference guide that will help you review the key differences between Mail.dat and Mail.xml and when you might want to opt for one over the other.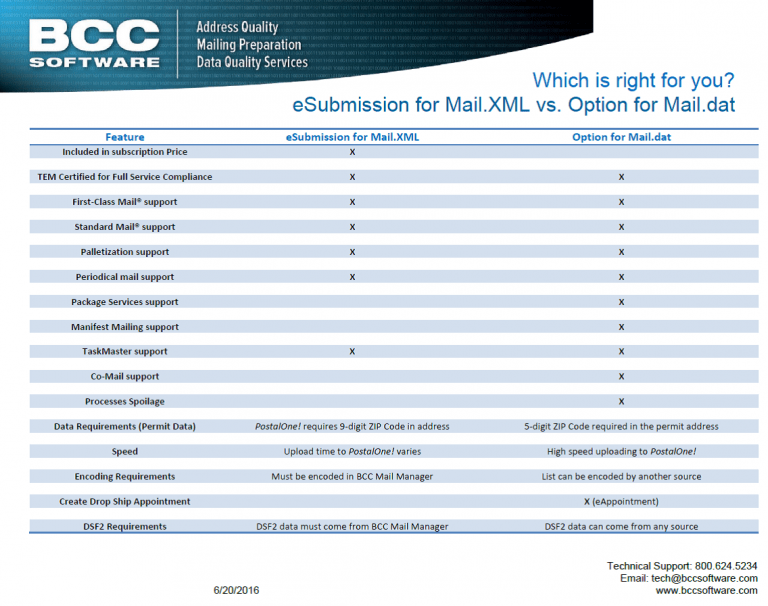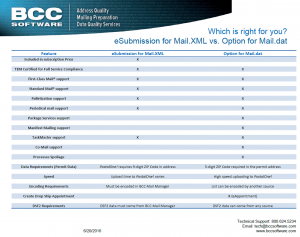 Still not sure which method to choose? Ask yourself the following questions:
Do you have mailing lists larger than 10K records? How frequently do they come about?
Do you have a need to split a larger mailing across multiple drop dates?
Do you find yourself needing to adjust piece weight/thickness after the presort has been completed?
Do you have a slow internet speed or notice losing access to the internet throughout the day?
If you answered "Yes" to any of these questions, Mail.dat should be your top choice.
Regardless of the method you choose, Mail.dat or Mail.xml, by using an electronic documentation process, you save both time and money. With an expected postal trend leaning toward mandatory electronic documentation, less time spent dropping off your mailing, and cost savings with the Full Service Discount, it is time to start the move. BCC Software is here to help. Contact our support team to help you start the process.