Perinton Publishing Sees ROI and More after BCC Mail Manager Upgrade
Rochester-area mailing service provider saves time and money with BCC Mail Manager Full Service.
Dear Goliath, meet David.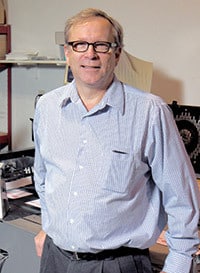 Mike Libby isn't bashful about being a small mailing service provider, because he knows employee count is only a number. With the power of BCC Mail Manager Full Service and his USPS® Certified Full-Service Mailing Service Provider status, Mike knows he can play with the big boys.
Perinton Publishing, a 25-year BCC Software customer, was started by Mike and his wife Beth in 1993. He's been dedicated to using technology to keep Perinton Publishing at the forefront, allowing him to meet the fast-paced demands of his customer base, without having to take on personnel costs.
"In an effort to grow sales, we started expanding our customer base and reached out to our mid-sized printers in our area," said Libby. "We started to hear a consistent theme. In order to compete with other larger mailing service providers, we had to expand our capabilities and provide faster, more efficient service.

"Many customers were allotting very little time in their production schedule for mail processing, so when using an outside vendor, they needed to have 24-hour turnaround on mailing databases."
To expand into the mid-sized printer market, Mike formulated a three-party strategy: 1.) invest in significant Internet speed improvements, 2.) upgrade to BCC Mail Manager Full Service, and 3.) exploit the automation capabilities of TaskMaster/JobManager to achieve better end-to-end productivity.
Using TaskMaster and JobManager
Mike developed a simple TaskMaster task that would help automate the CASS™ and NCOALink, specifically 48-Month FSP NCOALink, processing of data lists.
"Between the higher speed Internet connection and this simple TaskMaster task, we are now able to process CASS/NCOA in one-third the time that is used to take."
Mike also created a task that prints all of the standard reports to the assigned printer and queues the inkjet file.
"While TaskMaster is handling all of this, I can be off doing something else and be doubly productive," said Mike. "Overall, when you factor in the cerebral part of data processing for a job, reusable TaskMaster components have helped me cut my overall data processing time in half for most of my mailing jobs."
Mike also took advantage of automating his presort and mail.dat files.
"Using a very fast Internet connection and TaskMaster, we have transitioned about 90 percent of our eDOCS to XML and reserve dat for the remaining jobs because they require spoilage, simplified addressing, or some other capability that only dat can provide. TaskMaster and XML work seamlessly in the background to handle most of my eDOCS needs, freeing me to do other tasks.
"Automated workflows using Full Service and TaskMaster have enabled us to quickly process and deliver mailing databases to our printer customers. Customers have commented that besides delivering mailing databases faster, we are also more reliable and repeated than other vendors. We credit BCC Mail Manager Full Service and TaskMaster for this."
New Customer Acquisition and Return on Investment
For any small business, expenditures have to be closely scrutinized. Mike's investment in Full Service was no exception. His calculated strategy and upgrade decisions are paying off.
"I found (after executing my strategy) that I could save about 166 manhours of labor per operator per year. At $50 per hour for salary, benefits, and overhead costs, that's over $8,000 annually per data operator in savings."
"I'm not certain how to measure the financial impact of reducing errors, increasing reliability and repeat-ability, and meeting aggressive customer timelines. I consider it invaluable."
With the Full Service options at his disposal, Mike reached back out to the mid-sized printers – and larger volume printers – to let them know about Perinton Publishing increased capabilities. Those contacts turned into six jobs in package services he wasn't able to fulfill before upgrading to Full Service.
"For me, the question isn't whether upgrading to BCC Mail Manager Full Service was worth it this year to meet the fast-paced schedules our printer customers give us. The question is why I didn't do it sooner."
Email marketing@bccsoftware.com to receive more information, or to sign up for a free trial of BCC Software's award-winning products.